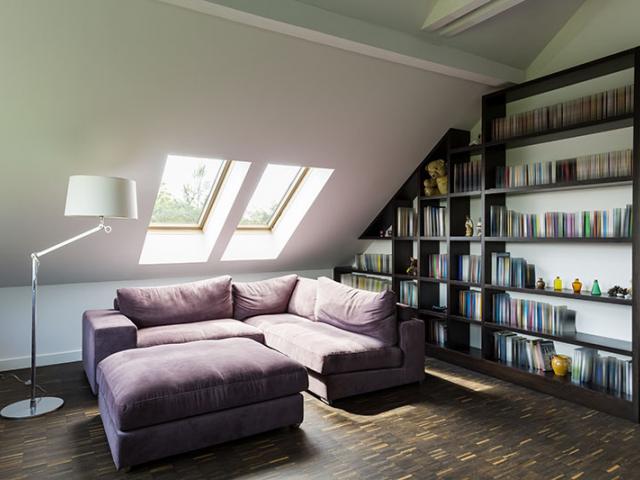 House Extension & Loft conversion - Lofts are receiving more and more attention in recent years. Converting your loft will bring more extra space into your home and ultimately more value to your property. A loft conversion is a great way to add more space and value to your home. Loft conversions will allow you to design your dream home – you can create your home office, children's playroom, or a new master bedroom – all in under your rooftop. Loft conversions are easier tasks than moving to a bigger place, for example, but you'd still want a professional hand to do it. There are lots of things to consider before doing a loft conversion – such as whether it can be converted at all, type of loft you can get, and so on.
We at IGD Building can help you all of your questions about loft conversions. We are a contractor and loft conversion company. Our team offers loft conversion or side extension services and many other home renovation and design services including kitchen renovations, bathroom renovations, extensions, and painting. If you're planning a loft conversion, talk to our loft conversion specialists so you can be as informed as possible! Don't hesitate to contact us at any stage.
Loft Conversion Types
There are 4 types of loft conversion – roof light conversion, dormer conversion, hip-to-gable conversion, and last but not least mansard conversion. Here is more detailed information about each type of basic loft conversion our team can do for you.
• Roof Light Loft Conversion: With this type of loft conversions, we won't be making any changes to the roof which will make the process cheaper and easier. A lot of people opt for roof light conversion for this reason. Of course, there are some important factors to consider here as well – like whether you have enough roof space so that the room comfortable to be in.
• Dormer Loft Conversion: With the dormer loft conversion, the extension will extend from the slope of the roof. The dormer loft conversion is a very popular option because they suit most of the houses with a sloping roof. The dormer loft conversion service is also popular because it is more affordable than other types of loft conversions such as the mansard and the hip-to-gable one. The dormer loft extension or conversion will add significant extra space for less cost. There are also several types of options when it comes to dormer loft conversion depending on where we install the windows. You should talk to our loft conversion specialist for more details.
• Hip-to-gable Loft Conversion: With this type of loft conversion we'll extend the slope of the roof to create more space inside. The hip-to-gable conversion is only suitable for semi-detached and detached houses. If you have sloping roofs on both sides, we can extend on them both to create even more space inside.
• Mansard Loft Conversion: With the mansard conversion, we will make an extension along the whole lengths of the house's roof, will change the angle of the slope, and make it more vertical. The mansard conversion is one of the more expensive types but it will also create the most space. It can be done on most houses either detached or semi-detached.
Things to consider before a loft conversion
The Head Height
There's a minimum height for loft conversion – 2.2m. You need to make sure you have it by measuring it yourself. Our team of contractors and loft conversion builders can also help you with that – we will determine how much headspace you'll get once the conversion is done. Unfortunately, loft conversion with low headroom would not be possible if you're going to use the room as a living space or a bedroom, for example. We will also determine if it's possible to get your loft converted based on the head height and roof space.
Your type of roof
Your house can have two basic types of roof – either trusses or rafters. Roof trusses are wooden frames that support the roof through the cross-section. Rafters are also wooden supporters but they go along the edge of the roof. This is an important difference to consider because they will need different methods to convert. Trusses may need more attention when converting. The conversion specialists at IGD Building can also convert trusses by providing additional support for the roof.
Do you need planning permission for a loft conversion?
Most of the time, loft conversion planning permission is not required at all. Most loft conversions fall under permitted development rights. Of course, there are certain exceptions that might need further planning permission verification. You can check all the regulations on websites that cover such information. Usually, you'd need additional permission if you plan to alter the rooftop beyond its limit, for example. Basically, depending on the type of work you're getting on the roof, you might need planning permission. If you're converting your loft into a livable space, then you will need to get building regulation approval. If you're converting your loft into a storage space, then you may need one.
Your goals
If you're hesitating or whether to do a loft conversion or extension, we're here to help. But it ultimately depends on your end goal with the converted loft space. If you're looking to sell your property then converting a loft and adding a bathroom may be a better option. But side extensions also have their benefit - they can be cheaper and are still a great way to add in space to your home.
Loft Conversion Step-by-Step
Our team of loft conversion specialists and contractors devote ourselves to give you the maximum. We have expertise and experience in converting lofts into whatever our clients want. The work on your loft will be carried out by our experienced professionals to provide you with the best possible service.
Loft conversions can add space to a home without much disturbance. During the process, you won't have to move out until the renovation is done and you can continue with your daily lifestyle undisturbed. Here's how our loft conversion process looks like in detail.
Consultation
Converting a loft not an easy task and they do require a lot of attention and planning before beginning the loft extension work. There are a lot of factors that contribute to the success of the loft conversions – such as the scope of the project, your goals, and budget. That's why the first step to every loft conversion project is to go to the property and determine all the possible ways to address the project. Our team and project manager will be available for questions and discussions about everything you can think of about your loft conversion plans. As a loft conversion company, we will consult you and give our opinion about the limitations and factors we need to consider before starting the loft conversion. If you have any questions don't hesitate to contact us!
Planning Stage
Lofts Conversion requires a lot of planning and design. At this stage, we will begin planning the whole loft conversion process. You might choose to create a plan with an architect – that's entirely up to you. If your architect develops a plan for the loft design, our team will follow it. But either way, planning is an important step to every building project and needs to be done with a lot of attention. This where your goals will meet reality.
Building
The next stage is to begin the building work. During this stage, we will do everything connected to the construction work based on the plan made by us or the architect. During this stage, we will alter the roof and floors, build the loft conversion stairs if need be, fit the windows, install insulation, and upgrade the fire safety.
Our Loft Conversion Services
Altering the roof
During loft conversions, we need to alter the rafters and trusses and add new support to the roof. All of this has to be done in a way that doesn't compromise the space in the loft too. In a lot of cases, our team will also have to alter the floor joists as well. This will raise them slightly and they will rise above the tops of the ceiling joists. For small lofts, a lot of the times the floor joists will support the sloping rafters. This work is very precise and it needs to be done with great attention to detail. Our team is ready to do just that.
Loft Extension Stairs
Our team can also construct the loft staircase as well. This is a complex step in loft conversions too because the space for the stairs is usually narrow. This can be a problem, especially if you try to move furniture or large luggage up. For some type of staircases, you'd need special approval as well. You can ask our team if the staircase you're planning would need one.
Before building the staircase, you'd also need to consider fire safety too. For fire safety purposes, the stairs should lead to a hall and an external door. Our team and project manager will guide you in this process and advise you on the best options for your staircase.
Window Fitting
As you probably have guessed, your loft will need windows too. There are several options to install windows into a loft. The most popular method is to get the so-called dormer windows. They are popular because they can provide more space in the room. If your loft is going to be used solely for storage space you might not need windows at all but rather extractor fans. If you're planning a master bedroom, for example, you need to plan a bit more. As far as planning permission for windows goes, you might need one if you install windows at the front of the house. If it's the back you'd probably not have to. Ask our specialists for guidance.
Fire Safety System Upgrade
Fire safety is one of the most important factors and concerns for any building regulations. The fire safety in a loft will depend on the number of storeys in your home. In a three-storey house, it can be somewhat tricky. There are some things that need to be done in every loft. First, you have to consider escape windows. The windows should be big enough that you can escape from the house in case of a fire. Other options for fire safety include fire-resistant doors and smoke alarms.
In a two-storey house, the fire safety requirements are not very complex. It's required that you have a window to jump out of in the case of need and stairs to go down on. For three storey houses, fire safety should be more serious. You need to take precautions such as installing smoke detectors and make sure that the stairs are fire-protected. This means that the doors should be fire-resistant and one of them should lead to the outside.
Loft Conversion Insulation
Thermal insulation is an important factor in any house. Our team can help you insulation of your loft as well. As a part of the extension process, we also need to prepare and install roof insulation. That usually happens when we insulate between the covering and the rafters while replacing the roof tiles. In other cases, we can insulate between the rafters. When we do thermal insulation, it's also important to make sure that the ventilation is not compromised.
Install Heating
If you're going to use your loft as a bedroom or a living space, for example, you'd have to consider heating. Our team of contractors can help you with that based on your house specific design. In most cases, we opt for extending the existing central heating system. Of course, that needs to be checked carefully by a plumber or engineer to make sure that your heating system can handle more rooms. It may not be possible to extend the heating system. In this case, we can install other heating methods.
Installing Electrics
Our team can also install additional electrical systems or extend the current one. This is a task that needs to be done by a professional because it can be dangerous otherwise. Also, at this stage, it's important to talk about certificates of the electrical system. They will be required for your Building Regulations Completion Certificate.
Lighting
Lighting is one of the ways to bring brightness and comfort in any home. With the light, you can accentuate your interior design or artworks, or use light for practical reasons. Although it may seem small, it's actually an important part of any loft. Our team can install the lighting you want. You can achieve the atmosphere you want and we are here to help with that. Our loft conversion specialists can install a track lighting system, chandeliers, and everything else.