Painting is one of the easiest ways to update the look of your home. Giving a new fresh colour to the walls may completely change the appearance of the rooms. The best part? It is a relatively cheap project that can give a new life to the outdated and boring interior of your home.
However, before grabbing the brush and tray with paint, it is good to get acquainted with some basic things about painting and of course, to have a clear plan on how to achieve the desired result.
The focus of this article is all you need to understand before getting into the painting project.
How do you prepare for painting?
Prior planning and preparation is the key to success painting project whether you are hiring a professional painter company in Surrey or making a DIY painting. Here are a few tips and steps to follow when preparing for painting the rooms in your home.
Set your goals
Are you going to decorate all rooms in your house or maybe you just want to refresh the living room? Would you like to cover the walls with more than one colour or you are more into monochromatic wall paint? Think about the size of the space and how much paint colour you will need to achieve the desired result (a gallon of paint covers roughly 375-425 square feet).
Determine your budget
It is best to start with a little bit of research on paint prices, materials as well as the cost of hiring professional painters in Coulsdon, Surrey. You may think you will save money by painting walls yourself but in fact, this can become a more expensive option especially if you have never done it before.
Look up paint and colour ideas
Would you like neutral colours such as light beige or you maybe want to experiment with more extravagant shades? It is always a good idea to browse through paint chips as well as check out decorating magazine and websites for some inspirations and new trends.
In terms of the types of paints, you can choose between oil-based, water-based or latex paint. Do some research to find out which one is best for your project.
Consider hiring professional painters in Coulsdon, Surrey
Although everyone can paint, not everyone can do it as a professional painter. Achieving the shade that you want might be not so easy task. Hiring a local painting and decorating company will help you pick the right colour and quality paint brand. In addition, it will definitely save you a lot of time. Professional painters have used many materials, know the right tools and applications and can do it right the first time. Yes, you may have to pay more for a specialist, than doing the job yourself but skilled painters can provide your home with an exact look and even go way beyond your expectations. You can simply find contractors in your area just by searching on the internet for "professional painters in Coulsdon, Surrey".
What tools do you need for painting a room?
Here are some essential tools you will need during your painting job.
5-in-1 tool - it can be used as a scraper, putty knife, screwdriver, pointed scraper as well as painter roller cleaner;
gallon bucket;
paint brushes;
paint rollers - 4" roller and 9" roller;
paint tray;
five-gallon bucket;
drop cloth;
painter's tape;
extension pole;
sandpaper/ sanding sponge.
What are the steps to painting a room?
To ensure your project is successful, follow these steps.
Clean the room and prepare the walls
Move all furniture out of the room and remove any pictures, frames and shelves from the walls. Clean well the entire walls from dust. You also need to check them for cracks, holes or other surface imperfections. If you find any of those defects make sure you fill and repair them by using a spackling compound. Once you are done with filling remove the excess compound with a putty knife then let the surface dry completely. After that, smooth the walls by using a sanding block or sandpaper and wipe them with a damp cloth.
Use painter's tape to cover the areas that shouldn't be painted
That way you will protect these places that you don't want to paint such as the door and window frames. Put on the tape in short overlapping strips and press firmly downward along the edge. Make sure you apply the painter's tape properly so that it does not seep under the tape barrier and mess up the surfaces.
Spread drop cloth on the floor
You may use plastic, paper or canvas drop cloth. Canvas drop cloth is really durable and absorbent but is more expensive than the other ones. Plastic drop cloth is the cheaper option. However, it is not absorbent. Paper one is the most economical but can tear easily on floors.
Cut in the edges
Cutting in means that you paint areas that are too small for rollers to reach (the ceiling line, corners, and along baseboards and trim).
Create two to three-inch bands around the edges of the walls by using an angled brush. Make sure you hold the paintbrush correctly (like a pencil) and apply the emulsion in a precise manner to avoid drips, save your brushes, and achieve great results.
Prime the walls
It is a key part of any painting project, especially if you want to go from dark walls to a lighter colour. Paint primer will increase the longevity of the paint, and greatly enhance the protection provided for the surface being painted.
In what order do you paint a room?
When you are painting a room there are generally three areas that have to be painted - the ceiling, the walls and the trim. But what is the correct order to paint them? What do you paint first the ceiling or walls?
The first thing you should paint is the ceiling. Why? While you are applying the ceiling paint there might be some paint drips off of the ceiling and falls onto the walls or onto the trim pieces. And that can be really unpleasant situation if you have already painted your walls. Once the ceiling is dry you can start with the trim and baseboards. It's a quick and easy process if you paint your trim before you paint your wall colour because the paint can get all over the wall since it's going to be painted over anyway! The last step of your painting project is covering the walls.
How to paint the ceiling?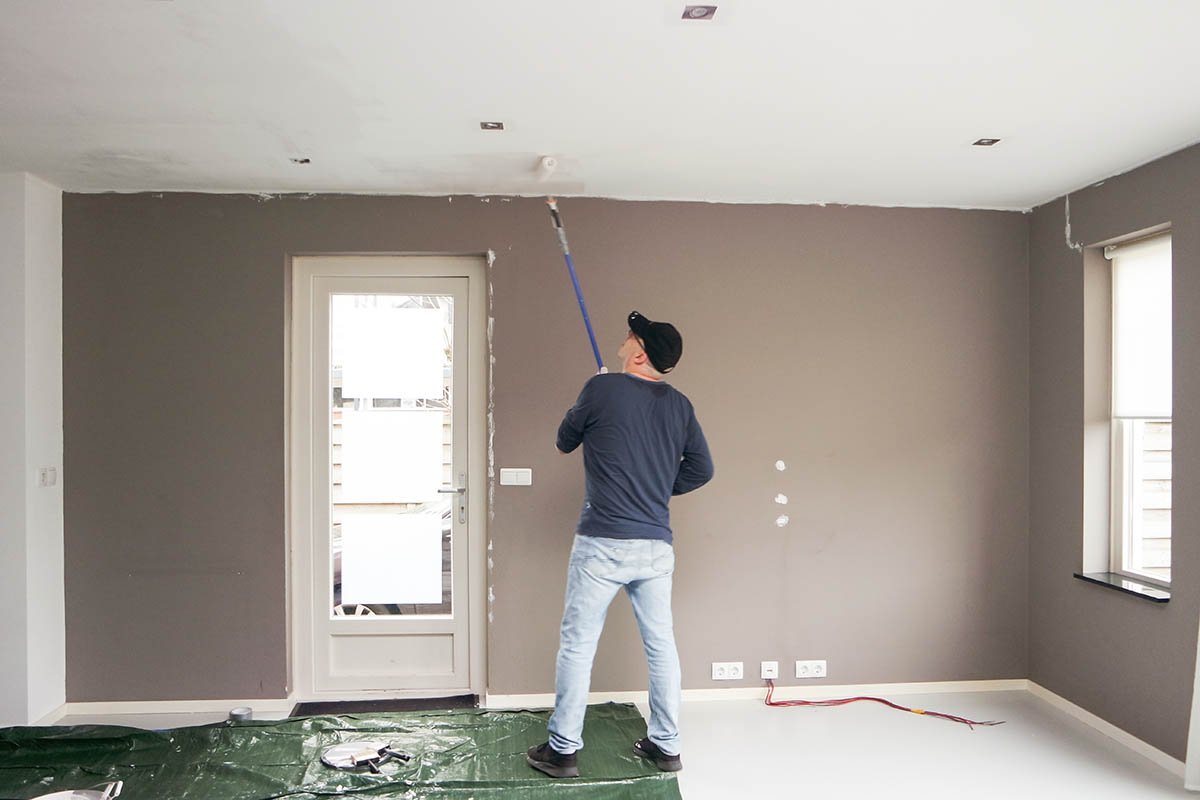 When you start painting the ceiling, the first thing you need to do is paint the edges of the ceiling with a brush. Go around all sides of the room. What do you need is a brush with quality hair, a paint tray and a ladder.
Once you have cut off the corners of the ceiling with the brush, you can begin painting the rest of the ceiling with a roller, starting from the outside in. To paint as quickly and easily as possible, be sure to use a painting extension pole. Try not to roll too fast to prevent any paint splatters.
Tip: Use special ceiling paint. In general, you will achieve the best results with paint that's specially formulated for ceiling application. It must not spatter and dry slowly.
How to paint the walls?
Once the ceiling paint is dry (it will take a few hours) you can mask off the ceiling and the trim with masking tape and start painting the walls by using a roller. Use a soft nap cover for smooth surfaces and a rough nap cover if the walls are textured surface. Do not rush with the roller with paint otherwise it might spatter everywhere. You can pass the roller over the tray's ridged area several times to remove excess paint. Make sure you roll paint onto a wall in "W" shaped, continuous strokes to get good coverage. To reach the top of the walls use an extension pole. Don't forget that most walls require two or three coats of paint, especially if you want to achieve a darker colour. If you need a break, cover the bucket and wrap up the roller and brush. Once you are done with the paint job, clean the paintbrushes with soapy water or a special paintbrush cleaner. When the painted wall is dry enough (follow the recommended drying time), you can start pulling off the masking tape at a 45-degree angle so that the finish will not be torn.
Tip: Try to maintain a "wet edges" technique. It means to keep the coverage of the edges wet while you are rolling the adjoining section. This is one of the best ways to avoid lap marks.
Why it is better to hire professional painters?
You may think painting is a simple project that you can tackle yourself. However, there are many things to take care of and pay attention to. Missing even the smallest of details can result in something you will be sorry for later.
On the other hand, hiring a professional painter and decorator will significantly enhance the look and feel of your home. They will use some of the best painting techniques and will make sure everything is done correctly in order to ensure the best possible end results. A well-painted wall can stand up to deterioration which means you won't have to redo the job each year. That saves you both time and money. The best painting and decorating services will also give you lots of options. You will be able to choose between different colours, decorations and higher qualities finishes. And the best part is that you will surely get the desired results.
If you are looking for painting and decorating services in Coulsdon and in Surrey in general, do not hesitate to contact us and schedule an appointment. For more home renovation tips, check out our article on tiling a bathroom wall and where to start.