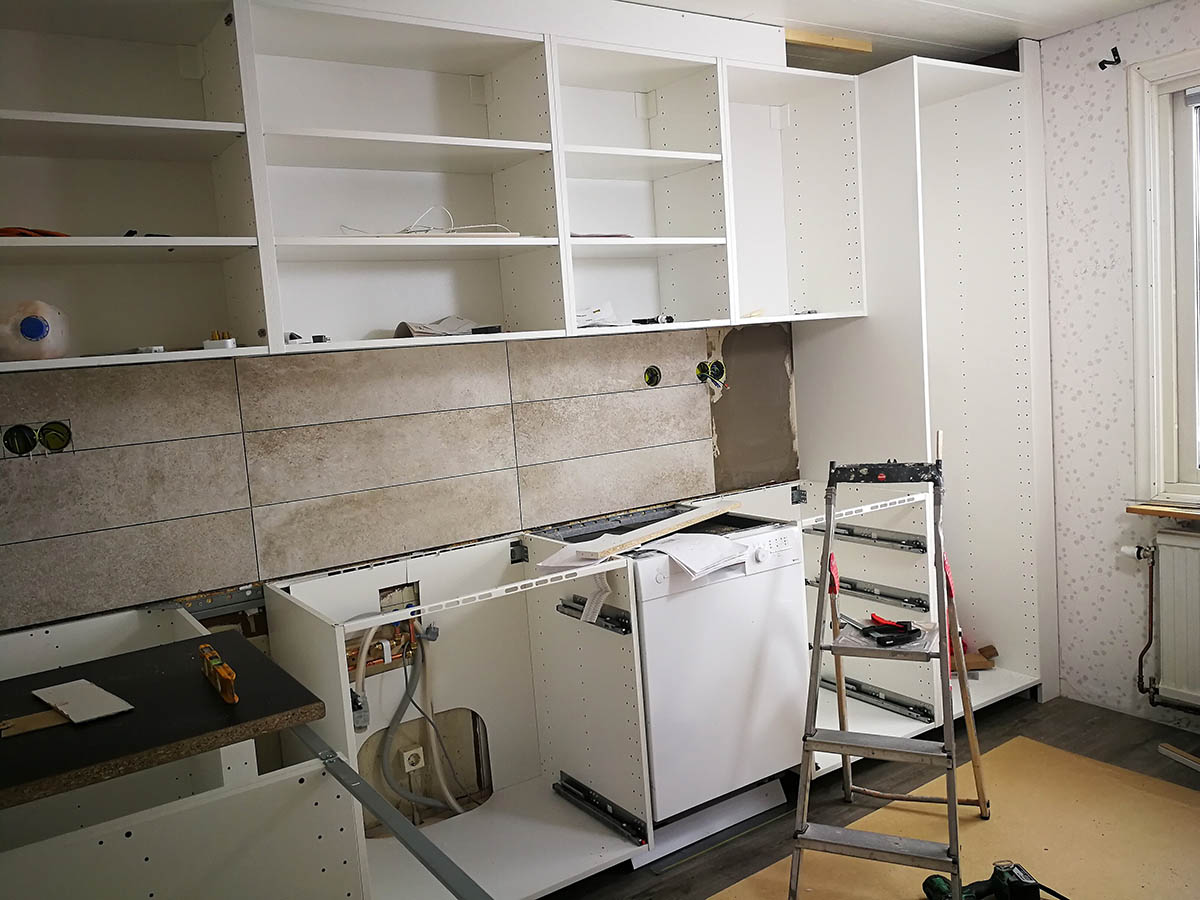 This article will help you understand how to renovate a kitchen on a tight budget. Whether you DIY or hire a company, it's not an easy job to do. A simple remodel can make your kitchen into the sweetest and most enjoyable place in the house but not without repercussions. Oftentimes homeowners take on a sadistic approach where they spend all they got on useless gadgets and impractical materials that can otherwise be purchased for a fraction of the cost.
Not only does this drain their bank accounts but also turn the heart of their homes into a dysfunctional place. So much for those dreams and plans. The good news is that you can learn from their mistakes. We live in an era where we have heaps of information at hand. All we have to do is ask for it. And since you asked, here is how to keep kitchen renovation costs down all the while giving the room the facelift it deserves.
How Much Does a Kitchen Facelift Cost?
The absolute minimum is £900 provided that you do the work yourself. Hiring a professional kitchen renovation experts will add more expenses to the list. A lot of people spend a minimum of £1,800 on small kitchens and £4,878 for larger projects. It varies per area and building company (everybody has different fees).
But in most cases, how much money you fork out depends on the type of renovation. Cosmetic alterations are the cheapest to implement for obvious reasons, whereas dramatic changes to the design that involve tumbling down a wall, adding expensive units, and settling on luxurious cabinets will set you back thousands of pounds. The sky is the limit here. You can read our kitchen revamp ideas to get some inspiration and keep the costs down.
Can You Renovate a Kitchen for £10k?
You sure can but you have to think about what the changes you want to make in your dining space and whether they can fit within the desired ranges. For the most part, you will be able to do things like swapping the old bulbs for LED lighting, replacing the counters, installing a new floor, and painting and decorating. In fact, you can do a full-blown remodel for that price tag as long as you pick up your items carefully.
When it comes to cost-effective remodels on kitchens, you want to focus on those parts that are in dire condition and leave the sturdy ones intact. This will allow you to make an impact within the established budget. Dolling up a single room in your home can still have an impact on the overall feel, especially given the high traffic that kitchen normally receive.
How to Start Kitchen Renovation Without Breaking the Bank
Now, there are plenty of ways to reface a kitchen. Inarguably, the most effective manner to stay within budget is to plan your entire remodel journey from start to finish and then just stick to it. Believe it or not, these two aspects have proven to be nothing short of challenging to the majority of homeowners.
In this day and age, the marketplace is brimming with tempting products of different colours, sizes, and uses. We tend to accumulate stuff even though we know perfectly well that we will get tired of it sooner than later. Being the consumer society that we are, we are prone to splurging on goods we don't need to satisfy an innate drive right here, right now. And because we like to show off.
So, to avoid the traps of consumerism, here are some pro tips to get you started.
Assess Your Kitchen Remodeling Needs
Create a strategy and delegate tasks to other family members or contractors. Compile a list of the DIY jobs you desire done, calculate how much they are going to cost, and choose the materials and tools you need. Then, decide which parts of the projects will be handled by a professional. A great way to go is to leave all electrical and plumbing work to qualified technicians while you can do stuff like painting walls and ceilings, uninstalling appliances, assembling small units, etc.
Step number two is to determine where you are going to obtain the materials from, online or offline, or both. If you are smart about it, you will check out all options. Why? Because the best deals have to be hunted down. You can't just sit and wait for an enticing offer to come your way. You have to get some work done, put in the effort and find a piece that serves the purpose. Having the right kind of information to your advantage is key to incorporating your ideas into your remodelling project.
Read our post on the differences between home remodelling and renovation.
When shopping around, remember that the items you purchase have to meet the needs of your household other than your budget criteria. Think about how each item complements the rest of the stuff. If something doesn't quite fit, don't buy it. You'll find a better product. It pays to grab some things straight from the hardware store, while others will turn out a better deal online.
In fact, when shopping online, you can download the pictures of all the items you want to have. Lay them next to each other to see if they match. This will help you create a beautiful kitchen layout and save money at the same time.
Take the time to explore your existing kitchen workflow. Who does most of the cooking and dishwashing? Do you have enough storage? Would you rather have more counter space? Do you find it hard to reach stuff on those high cabinets? Perhaps they could use some reorganisation. Now, is there something that bugs you about your kitchen that you are desperate to change? Last but not least, what stuff do you plan to keep because you love it the way it is?
And more questions to ask yourself include: Do you want to have a designated dining area? Will the cabinetry go all the way from the floors to the ceiling? Do you want some special custom-made unit doors and cupboards (but keep in mind they cost a fortune). Does your countertop area also double as your breakfast bar and do you want to change that? Are you going to change your kitchen appliances? Whether you need to ditch your old microwave and invest in a good-quality oven, there is a wide price range for these items.
Is there going to be a kitchen island? That's a vital element in every kitchen as it provides enough surface area for prepping food and even eating. Keep in mind that the remaining space you have matters. In a small kitchen, it may be more of an obstacle that you have to deal with every time you are in that room.
As soon as you answer these questions, you'll know what strategy to choose to renovate your kitchen on a budget. It will all fall into place.
Check Out Prices and Run Them through Your Budget
Before you can set a budget, you have to take the time and compare the prices in different stores. It is also important how much you are willing to spend on your kitchen remodel. If you are dealing with a rigorous kitchen remodel budget, you have to dig deeper. Write down costs so you can use your notes afterwards.
You will notice that each item has a different price depending on its size and material. Also, some units are charged per square foot, others per whole item, and so on and so forth.
You should consider replacing some fixtures with more frugal counterparts. For example, pendant lights are more affordable than a chandelier. Do you see the difference? You can still implement your kitchen ideas in a budget-friendly fashion. Another great way to add decent lighting into the room is to stick with LED lights because they prove to be more energy efficient in the long term.
At the end of your comparison journey, you will have it clear as day how much different kitchen elements run on the market. This information
Determine if You Need a General Contractor to Update Your Kitchen
Hiring different companies to do some or all of the jobs is an expenditure you might want to skip; however, professionals can give you advice on how to implement a budget kitchen makeover. They will recommend certain makeover ideas that will make a difference without being tough on your bank account. Plus, they are qualified to do certain jobs that you might not be skilled enough to carry out yourself.
You'll probably want to enjoy the results for the years to come, that's why you need to stick to quality workmanship and materials. This will be less expensive in the long run since you won't have to start another remodel in the near future.
Remember, preparation goes a long way. If you follow these steps religiously, you can create a project that meets your needs and doesn't drain your wallet.
How to Renovate Kitchen Cabinets Without Burning a Hole in Your Wallet
Kitchen cabinets being one of the most exorbitant elements of a kitchen renovation can present a real challenge for your budget. While you figure out the plan from above, pay special attention to the existing cabinets. Ask yourself the following questions:
Plan everything out - We already talked about the importance of having everything figured out before you commence work. Likewise, without a plan for your kitchen cabinets, you are guaranteed to blow your budget. Regardless of the changes you want to make or the scales of said project, you want to put everything in writing to calculate potential costs and organise the various elements accordingly. It is vital to think about why you are doing this. Are you tired of your old kitchen cabinets or are you looking for more functionality? Do you want to rearrange the units so you have a smoother workflow? Once you ponder over the reasons you want to embark on this project, you will have a better idea on what steps to take and how much money you will need for your kitchen remodel.
Do you really need to replace the cabinets to get a brand new kitchen look? - A far less expensive option would be to buy replacement doors or swap out the hardware. A simple job is to just paint them a distinct colour or shade. It's convenient. This will instantly transform the look of the whole kitchen. (Get more home painting ideas for your personal space on our site to help reduce the costs.). Or, if your cabinets are wooden, you can try to breathe new life into them by waxing and glazing them. Adding finish works great. Another great alternative is re-straining.
Would you be okay with stickers? - If your kitchen cabinets are plain and boring, you can glue stickers on them to liven them up a notch. The pattern and colour are up to you. Sometimes changing the drawer fronts is all it takes to spruce up a small kitchen. And it's cost-effective. Stickers can be used around the house as a general home improvement and renovation technique when your budget doesn't allow for bigger modifications. They can help improve your interior design style depending on the current trends and desires.
How about mosaic cabinet doors for your new kitchen makeover? - Is this something that appeals to you? Mosaic tiles are more often than not associated with bathrooms. But what if we told you they can look good in your kitchen? Detach the doors from the cabinets and set them on a solid surface where it's easy to work on them. Place the mosaic over them to see if it looks good. You may have to cut each tile into smaller chunks. Once you determine the layout, apply mosaic glue to the pieces and then carefully stick them to the doors. For more makeover ideas like this one, you can talk to a specialist.
Are your work areas in good condition? - Worktops are perhaps the second most expensive thing about kitchen updates losing only to the cabinets. Hence, that's another area of your project that requires forethought. Are you going to replace the kitchen worktops? Granite countertops are a cheap alternative compared to other options. They come in between £40 and £180 per square foot, so if you want to salt away some money, that's the way to go. Other options include laminate, wood, cultured marble, bamboo, stainless steel, and butcher block.
Do you need cabinet doors in the first place? - If your cabinet insides are in mint condition, ditch the doors and leave them like that. Open shelving is also an option. It lets you showcase your most valued cookware and other belongings of the same type.
More Budget Kitchen Ideas and Tips
If you want to give your kitchen an instant change in look, a good old coat of paint is a perfect choice for the parsimonious homeowner. And it's also a DIY thing.
If you want to take your kitchen remodel up a notch, go for tiles. That said, covering the entire room in tiles can feel like daylight robbery even if you use a subway tile that runs £1 per item. Hence, you may want to focus only on one area like the oven. If you don't have a backsplash, tile surfaces will keep the wall from greasy stains. Plus, they never go out of style. Nice.
Replace the faucet. Sometimes small remodelling ideas have a huge effect on the final result. A tiny modification in your kitchen sink area will enhance the look of your kitchen. Get an expensive faucet to add a touch of elegance and luxury to the room.
Add a twist to the kitchen design by hanging some paintings or food quotes. Other types of wall art are acceptable. If you want to make use of the empty space, attach a few shelves where you can keep jars, candles, and whatnot.
Choose a red fridge or stick to bold colours. It will stand out from the rest of materials and items. When you enter the kitchen, your eyes will be immediately set on it. It's one of the simple yet effective ways to draw the attention towards a particular segment.
Speaking of, scratch and dent appliances are a more low-cost option than brand new. The advantage is that the items are in tiptop condition but you get them for a fraction of the price because of this minor flaw in the appearance.
Replace the flooring. That's another DIY job to include in your kitchen makeover, although you can always consult the pros for this one. There are a lot of budget-friendly alternatives for a new kitchen on a budget like laminate, carpet tiles, ceramic, and peel-and-stick vinyl, to name a few. They are also easy to install.
Other materials you can use around the kitchen include stainless steel, ceramic and stone, quartz, glass (it's always in style), recycled paper, and aluminium.
Add a rug. If you don't want to change the floor or, for some reason, you can't (you are not the homeowner), then use a carpet or rug to improve the look of your kitchen.
Glue wallpaper to some appliances. It may sound weird at first but it enables you to make the kitchen appliances blend with the walls and create a unified look. The same applies to painting the existing units to obtain the same goal.
Final Thoughts on Budget Kitchen Remodel
Kitchen makeovers don't have to make a dent in your wallet. With a thorough plan in place and overall comparison of prices, you can make the desired alterations. Yes, you may have to make a few compromises here and there but that's inevitable.
Because kitchen cabinets are one of the most costly elements of a kitchen remodel, this is where you have to apply extra wisdom and care. But other aspects of the job should not be underestimated either. At the end of the day, it's the diligence you put in that pays off.
If you are looking for more ways to spruce up your kitchen, feel free to check our makeover ideas further. We have lots of information available on the site and it extends beyond kitchens. Just keep exploring.